BUG SHOCK INSECT REMOVER 5 LITERS
Extrem kraftvolle Formulierung

Entfernt selbst hartnäckigste Rückstände

Mit angenehemen Zitrusduft
The expert against insect residues! Bug Shock is an alkaline special cleaner for removing insect remains and bird droppings from paint, glass, plastic and chrome surfaces. The new gel formula sticks to the surface for even longer, meaning that simply rinsing with clean water is often enough to remove all residue. Ideal for use before washing your vehicle.
Die zu behandelnde Fläche großzügig und gleichmäßig einsprühen. Nach 3-4 Minuten mit einem starken Wasserstrahl restlos abspülen bzw. das Fahrzeug waschen.
Wichtig: Achte darauf, dass die Oberfläche kühl ist. Das Produkt nicht antrocknen lassen und nicht unter direkter Sonneneinstrahlung anwenden!
Kennzeichnung der Inhaltsstoffe gemäß Verordnung (EG) Nr. 648/2004: < 5 % NTA (Nitrilotriessigsäure) und deren Salze, < 5 % anionische Tenside, Konservierungsmittel (2-Bromo-2-nitropropane-1,3-diol).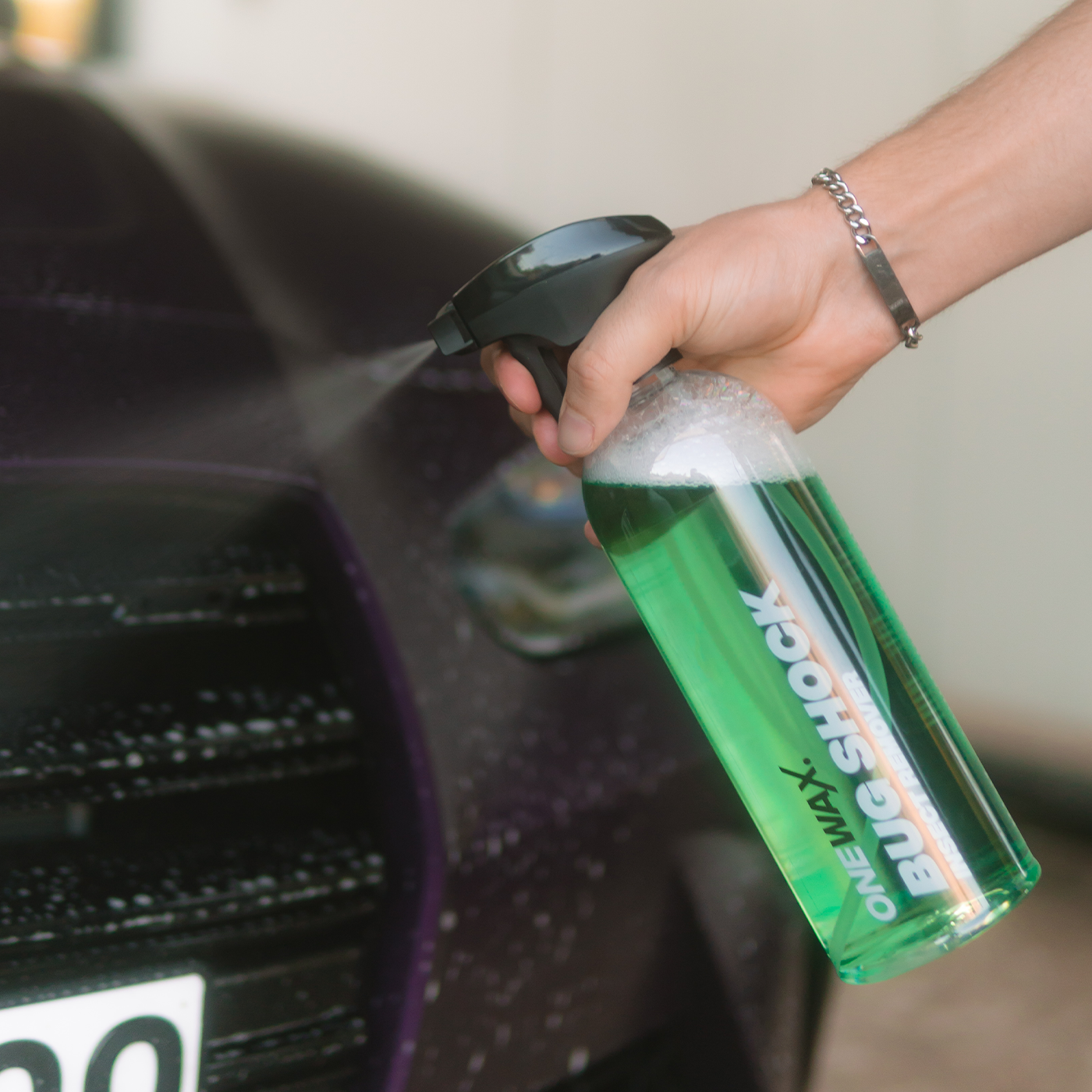 Gib Insektenresten Keine Chance!
BUG SHOCK
Der ultimative Insektenentferner entfernt schnell und gründlich jegliche Insektenreste vom Fahrzeug. Die Gebrauchsfertige Formulierung lässt sich optimal aufsprühen und nach kurzer Einwirkzeit restlos abspülen.
In der Regel ist dies auch möglich. Unsere Empfehlung ist es allerdings Bug Shock nach der Einwirkzeit mit einem Hochdruckreiniger restlos abzuspülen um ein maximales Reinigungsergebnis zu erreichen.
Ja, natürlich! Bug Shock ist ein Reiniger für alle Lacke, der aber dennoch hartnäckigsten Schmutz entfernt.
Generell gilt hier, ja! Andere Verschmutzungen wie der berüchtigte "Traffic Film" lassen sich ebenfalls sehr gut mit Bug Shock anlösen.
Du braucht noch weitere Hilfe?
Unser Kundenservice steht dir jederzeit für all deine Fragen rund um die Autopflege und unsere Produtke zur Verfügung.